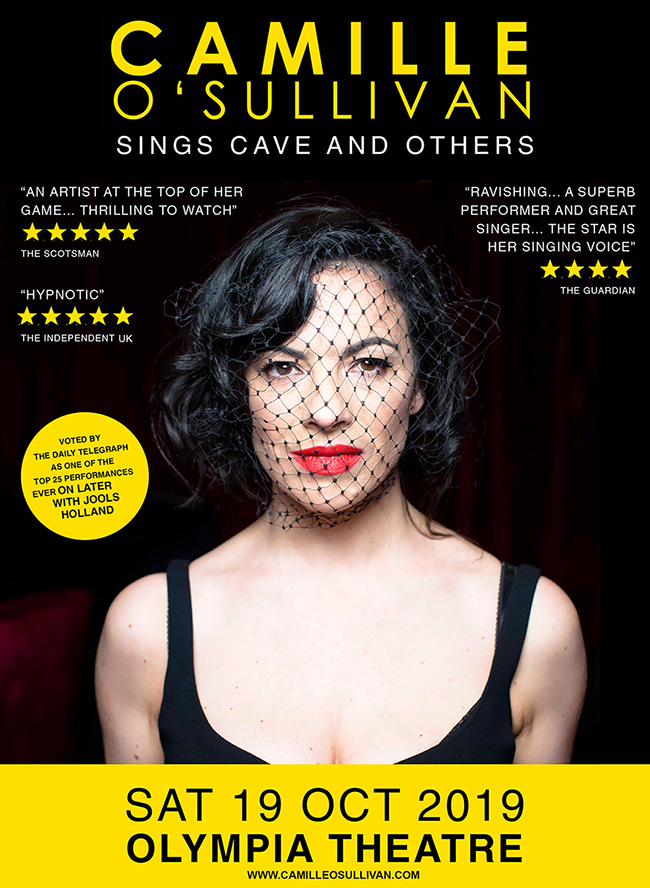 Camille sings Cave Tour 2019
Fresh from having just toured the show in Australia, New Zealand, London and Edinburgh to amazing reviews, Camille brngs her show on tour  Ticket links are on the TOUR section of the site.
"She burns just as bright as Cave, if not brighter. Where Cave longs to see the face of God, O'Sullivan danced last night with the ecstasy of one who has seen Him and lived to tell the tale."
"Hearing O'Sullivan was like witnessing a reincarnation of the nost extraordinary female vocalists. At times she had the storyteller's talent of Patti Smith, the timbre of Marianne Faithful, teh deadpan of Nico and the the jet-engines started to roar and we got a touch of Janis Joplin" Auckland Festival
Join the world-renowned Irish/French singer Camille O'Sullivan as she explores the dark and light of Nick Cave & The Bad Seeds' music. In her dangerous yet fragile theatrical style, Camille embarks on a personal discovery of a man of many guises; violent, beautiful, logical, crazy, devout, troubled and religious. Fresh from an Australian tour, join us for the London premiere of this new show.
'Queen of the Edinburgh Festival' (BBC) and original star of Olivier Award winning La Soirée, Camille O'Sullivan enjoys a formidable international reputation for her stunning vocal performances, at venues including Sydney Opera House, Royal Festival Hall, and the Roundhouse, and was recently voted one of Later... with Jools Holland's top 25 performances of all time by The Telegraph.
 Dark, sexy, fierce, amusing and mesmerizing, Camille transforms each song she performs into an intense, emotional and theatrical experience, ine
Photo credit: Kip Carroll
Posted Sept 2019
Posted 10 May, 2020