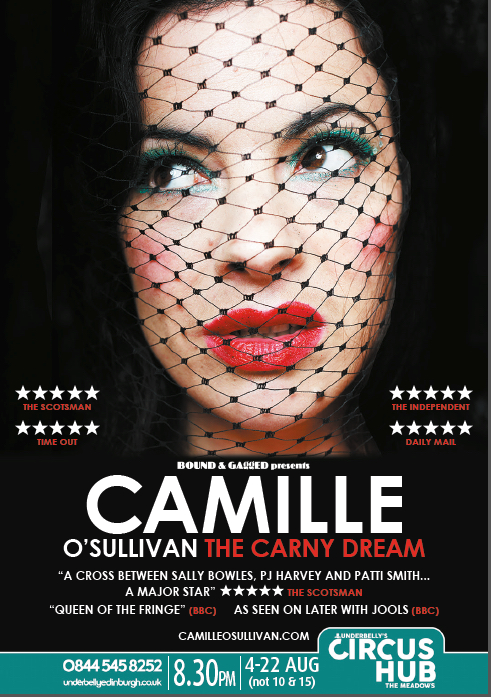 Dates added including new Edinburgh show!
Camille has just finished a run of sell-out shows in New York, Washington, Berlin and Brighton.
Next up are dates in Camille's beloved home town of Cork, Ireland where she will play at the Everyman Theatre as part of Cork Midsummer Festival and then a return to the USA for a show in a stunning Spiegeltent at Bard College in upstate New York. Following this there will be a very special show at the beautiful Sam Wanamaker Playhouse at Shakespeare's Globe Theatre in London on the 11th July.  Camille will then head home for two shows at the Mermaid Theatre in Bray, Ireland. 
In August it's that time of the year and Camille will be premiering her new show A Carny Dream at the Edinburgh Festival, performing from the 4th through to the 22nd August in the Circus Hub on the Meadows. Camille promises to take her audience on an exhilarating carousel ride. With her voice ranging from emotive rock to vulnerable whisper, Camille is fierce, playful and totally mesmerizing, transforming each song she interprets into a gripping theatrical experience. In this new show she has been inspired by the  strange magical dark and light world of Circus and dreams, asking herself  where are you now and what did you dream?
For full details of all these shows please go to the TOUR section of the site.
Posted 23 May, 2016